Themes, Plugins, and CSS to Customize Squarespace Sites
So you're a Squarespace designer or a DIY-er who doesn't like to spend time on the back-end of your site figuring out how things work. I get you!
I love the design part, but not so much the site development part and I'm always wondering just how to turn my starter templates into unique, high-end designs for my clients. Thankfully, this is all possible with a little code — aka CSS and Javascript.
I know, I know, code can sound scary and I avoided coding as long as possible before I figured out that it's actually really easy to make your sites look gorgeous with a few well-placed lines of script.
And guess what, you don't have to be a developer to make big changes! There are several free and premium resources out there offering codes, templates, and development help so that you can create the beautiful sites you dream up.
Here's a list of my go-to resources that help me build beautiful, unique Squarespace websites that my clients love!
Ps – I'm an affiliate of some of these sites, which means that if you purchase through my links, I will earn a small commission to help me keep creating great content for you.
Ghost Plugins
Ghost Plugins was the first resource site I used because they have hundreds of free Squarespace plugins. (Plugins are little code snippets that help you improve the look or functionality of your site.)
At present, there are over 200 different code snippets that help you do everything from change the background image of certain sections, add animations or improve your navigation menus. This site has more options than you would have thought possible for Squarespace. Over a dozen designers regularly contribute updates to help you trick out your website.
Ever wondered how to get those rotating words you see on some fancy headers? Here's a plugin to make it happen. Need to remove a page's header and footer to make a landing page in Squarespace 7.1? They'll show you how.
Ghost plugins recently added premium templates and a new studio service where they can help you make customizations to your site. So if you're looking for easy ways to make your site stand out, this is one site you'll keep coming back to!
Square Studio
Square Studio sells plugins, templates, and best of all, a yearly membership where you get unlimited access to all of their plugins. They have plugins for commerce, banners, galleries, media… you name it. My favorite plugins include the animated intros, great-looking summary blocks, and of course this really silly add-to-cart emoji action. Square Studio bills itself as "the essential membership for Squarespace designers", and this just may be true. Check out their all-access subscription service here.
** emoji video
SQSP Themes
I first learned about this site for its plugins. I recently invested in the Business Plugin Bundle and it was so worth it. I was able to use the sync product image with variant and lightbox anything plugins on the first client project that came my way, making my client happier and giving me the satisfaction of improving upon something nicely 🙂 Other great plugins include the countdown timer, Facebook blog comments plugin, and YotPo integration (for customer reviews, visual marketing, loyalty, and referrals). I used the Blog Sidebar plugin for years to give my Brine template an easy sidebar. SQSP Themes also has a curated selection of designer Squarespace templates, presenting an easier way to choose a professional template to help your business stand out.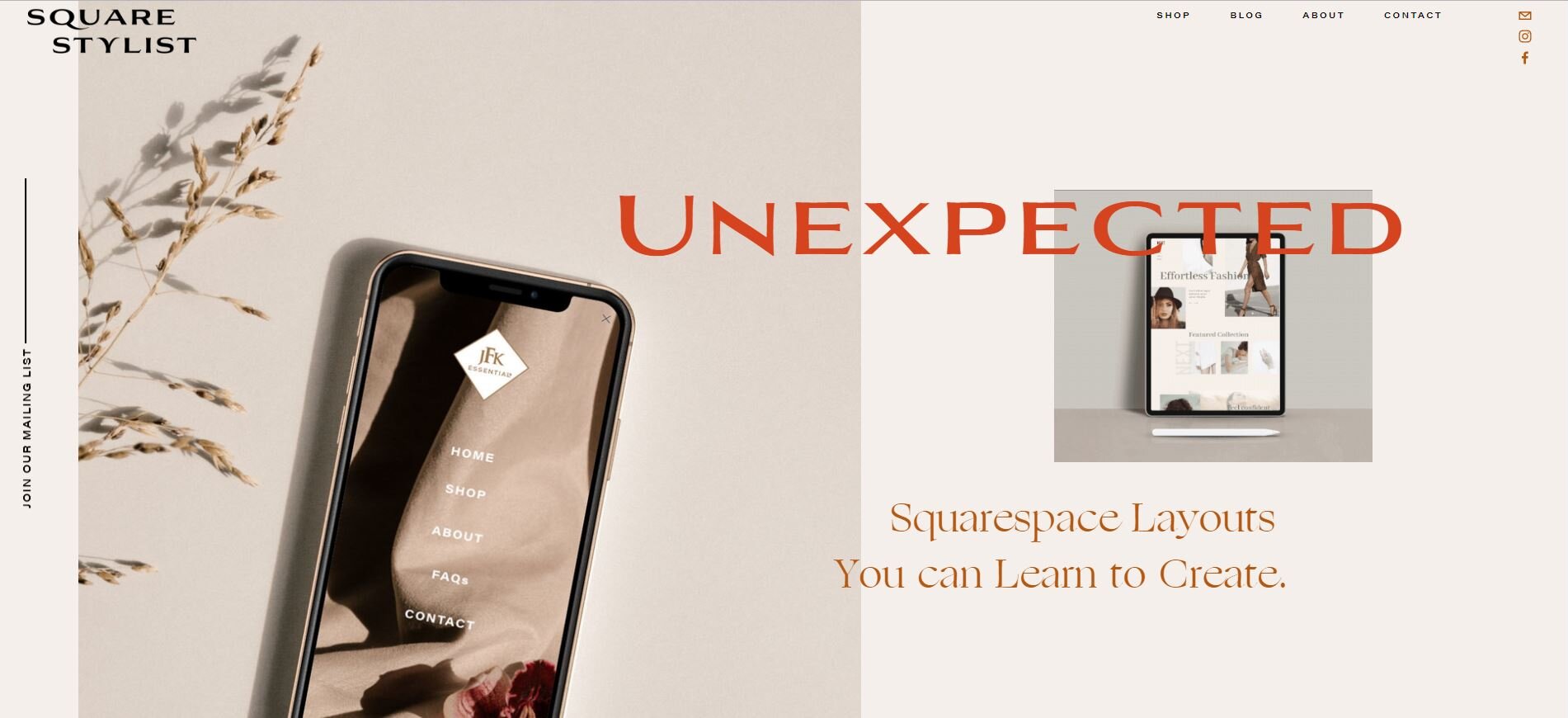 Square Stylist
Do you work with stylish clients or beauty and lifestyle brands? If so, you'll want to check out Square Stylist's classes to learn how to create amazingly stylish websites. These trainings aren't cheap, as they're geared towards website professionals. But, they can set your services apart and you can fill your portfolio with some truly unique websites. Take Rache's free Stylish Mobile Navigation Class to see if you'd like to learn with her.
Thirty Eight Visuals
Thirty Eight Visuals is the website of designer/developer Beatriz Carabello. She sells ready-made Squarespace plugins, but her blog is a wealth of information and she shares weekly code tutorials via her email list. I like her sticky images plugin (adding a background image that doesn't move), and her coding for mobile training bundle. If you want to learn enough code to make your clients' sites beautiful, Thirty Eight Visuals is a great resource.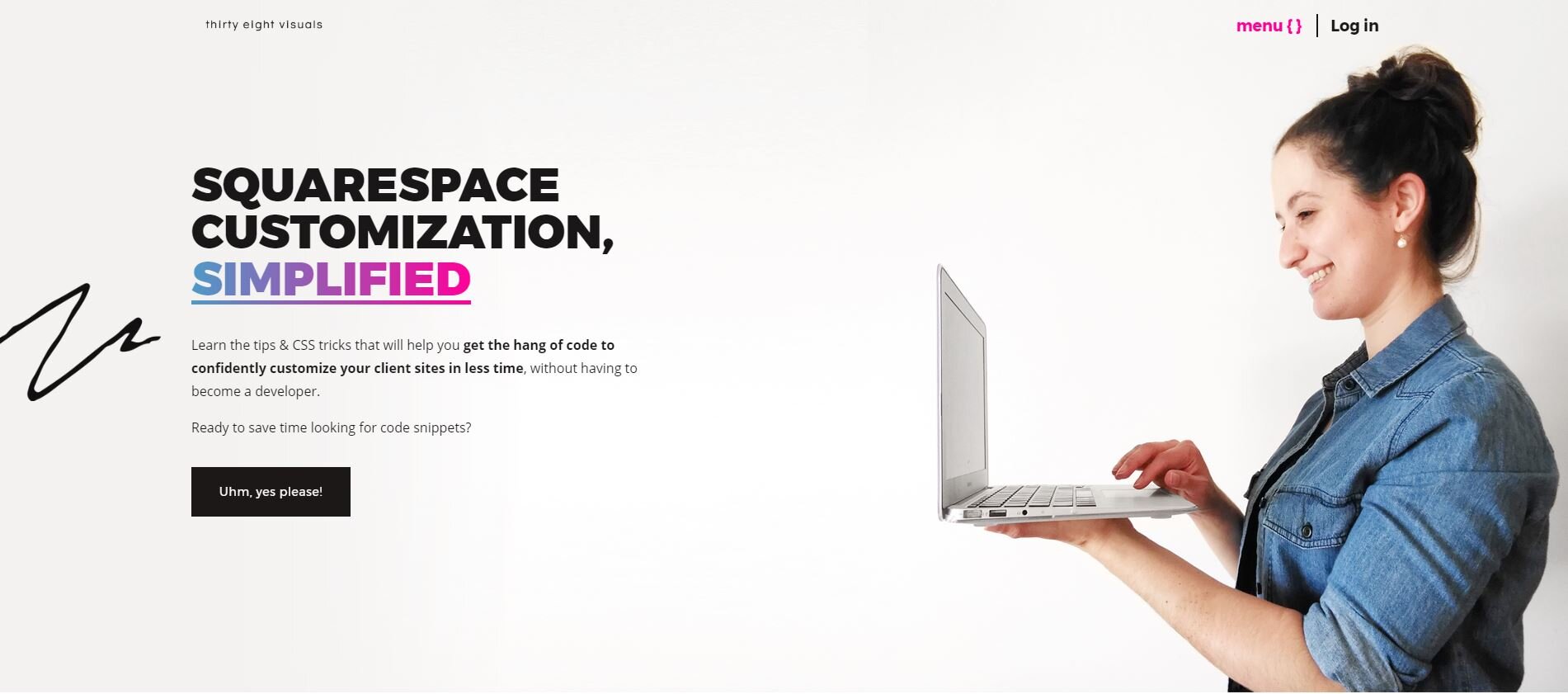 Square Websites
Squares Websites is another directory offering Squarespace code for things like numbered pagination, lazy loads, and "animate on scroll". They also have a useful import/export tool that can help you export content between Squarespace websites. I'm not sure if this will work yet with Squarespace 7.1, but we'll see!
Update: Squarespace just released its own import-export tool, but it's still in beta as of Feb 2020
Square Muse
Squaremuse is another boutique design agency that offers "elements" alongside their branding and web design services. Their "look" is for wedding professionals and lifestyle brands, but you could adapt their gorgeous sliders, image cards, and unique newsletter blocks to anything. See the SQMuse Elements on their website.
Squarespace Forum
The last place I go when I'm trying to figure out how to do something is the Squarespace Forum — not because it's not useful, but because the resources mentioned above + some other designers' blogs usually help me out. Still, if you have a SS site or you're a member of the elite Squarespace Circle designers' club 😉 , check the forum occasionally. You can learn a lot from other designers and Squarespace community monitors. This is a great place to learn to up your design game.