You've surely heard a million times now from people promising to teach you how to escape the 9 to 5 and make a living doing what you love.
I'm not here to teach you how to do that. But I am going to tell you about one way to at least indulge your creative side and maybe, if you're persistent about it, to make a change in what you're doing–whether your creativity remains your hobby or becomes your 9 -5.
++ This post contains affiliate links, which means that if you choose to sign up with Skillshare, I may receive a small amount of money (which helps me keep on learning, too!)
Here's My Story
A few years ago, I was working as a freelance copywriter for e-commerce companies, B2B small businesses, and startups. Though I liked researching and creating content strategies, I didn't like the competitive nature of those marketing jobs.
For some of you, writing copy may be your version of heaven. For me, however, it was a mental strain and a huge drain.
I wanted to design. But I didn't know where to start.
I had discovered graphic design in college and played around with layouts and editorials for years. I got into web design with Wix when I needed to create websites for my freelance writing business. Making websites was fun, and I spent much more time tweaking my own website than marketing myself as a writer.
Luckily, around the time of burnout, I came across two really solid resources to get me where I needed to go: Skillcrush and Skillshare. While I first made the transition to web design after taking a Skillcrush course, I've been able to expand my skills and learn so much more about topics that really interest me through Skillshare classes.
This post is about how to get the most out of Skillshare so you don't get lost in the overwhelm of interesting classes.
A Brief Intro to Skillshare
In case you haven't heard of it before, Skillshare is an online learning platform for creatives. For a low monthly fee (currently starting at $8 for the yearly plan), you get access to their entire library of classes. That's over 10,000 classes right now in tech, business, lifestyle, and creative.
As you can imagine, it's a little hard to find time to watch everything that you want. Here's my current class list: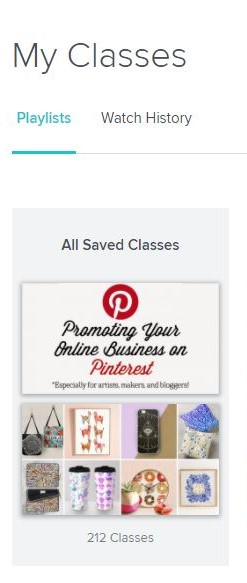 Since writing this post, I surely have saved more. It's a little tough to keep on track when there are so many new skills that I need to learn for running my business. I'm always trying to learn new tips to improve my workflow or layouts. I've also branched out into illustration, though I've had to put that on the side burner since I relaunched Make Be.
Luckily, Skillshare just created a new dashboard for sorting through your saved classes, so you can filter your classes by tags, recently watched, etc., or make lists. Here's a peek at what I've been working on lately:
Skillshare Classes Are Designed for Busy People
The good thing about Skillshare is that most of their classes are designed to be watched in small chunks, even the 12-hour+ courses.
How many times have you been rushed into purchasing a giant, single-subject course because that fast action bonus was going to disappear in 24 hours?! (I can feel your frustration, believe me!)
How many classes have you purchased and sat on for months or years without ever taking advantage of them?
There are so times that I've impulsively "invested in my business" because the little countdown clock on someone's email was ticking for the doors to their signature course.
And guess what… most of those courses are still sitting around, unused after the first lesson or two. I would still love to get around to them, but life is just too busy and there are so many things I want to learn.
That's why having unlimited access to unlimited courses is perfect for busy entrepreneurs or for those juggling family and a day job.
Are Skillshare Classes High Quality?
Skillshare is an open platform, which means that anyone can publish. So you'll have access to sponsored classes from Buffer's founder and Mail Chimp's marketing team as well as from great artists like Bonnie Christine (great surface pattern designer)… and from some amateur educators with great ideas.
You can imagine, then, that class quality is variable. Skillshare tries to highlight the best in by curating lists and featuring outstanding teachers. Here's one featured list that might be helpful to those launching a store: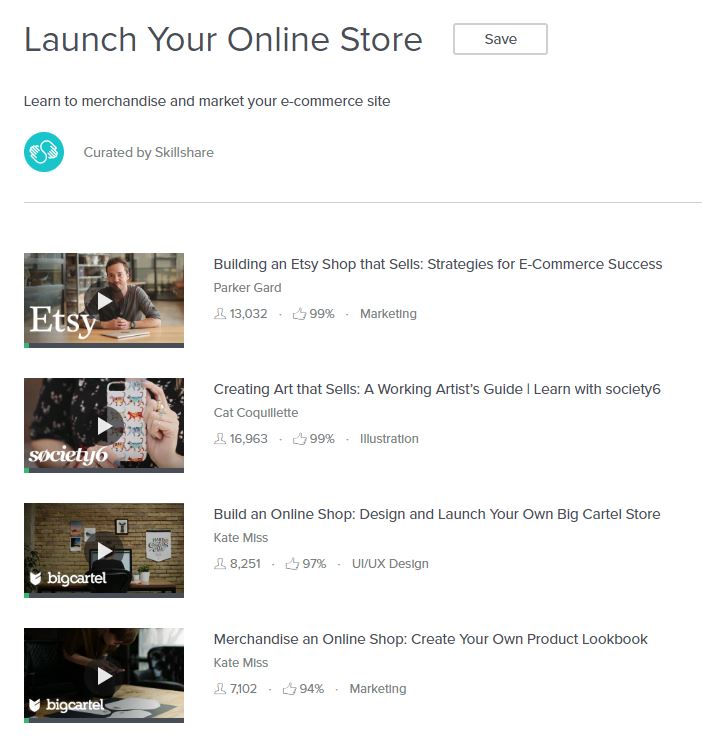 Another way to explore classes is by teacher. If you like one class from a teacher, go to their teacher's page and see what else they offer. You can follow them on Skillshare or around the web to get updates. It's a great way to make connections!
Skillshare also has (Beta) Groups for those taking similar learning paths. I haven't seen the groups I'm in being too active yet, but it's a new feature, and maybe it will catch on. Again, great for networking and class support.
Skillshare frequently hosts guided Teacher Challenges to sign on new instructors, and this might be a great way to earn some passive income on the side. (Some teachers make thousands per month.)
So, I hope you've gotten an idea of the versatility of this new learning platform, and hope it can help you grow creatively, launch a side project, or even change your career if you want to.
… And Did I Mention Learning on Skillshare is Affordable?
I know that when you're just starting out, it might be hard to splurge on a yearly plan. And sometimes it's even hard to come up with another $12.99 (the monthly plan cost).
That's how it was for me, but I'm really thankful that Skillshare granted me a scholarship for my first year. If you can show them financial need and explain to them how much learning on Skillshare can help you, apply for a scholarship here.
If you'd like to try it out first, Skillshare is always having signup promotions (usually a free month or several months for $0.99), so use this link to signup and see what you can create in just 30 days!