* This is Part 2 of 2 in my email marketing test series. You can read Part One here.
So, this weekend, I spent several hours writing a blog post on why I switched to MailerLite… Only to switch again!
I do like to switch things up a lot as I'm always looking for better, simpler ways to automate my business and get back more time in my day! Though I know that there are many better things to do than switch email clients again, I just couldn't help myself when I found out about Flodesk.
Now, Flodesk and MailerLite are as different as peas and potatoes — and no, you can't eat them together. You can only use one email client at a time, though I'm hoping that Flodesk will grow into a magical unicorn of an email service.
** This post contains affiliate links. If you make a purchase through my links, I get a commission, which helps me keep making great content for you.
MailerLite is made for marketing from the ground-up. Its premium plans have countdown timers, automation sequences, abandoned cart emails, a simple drag-and-drop builder, landing page builder, surveys, and more…
And it's not that I don't want to market. I was trained as a conversion copywriter. But just after I hit SEND on my last email on MailerLite, this is what landed in my inbox:
This is the start of my most recent email. Now, it's not just that the NAME field didn't populate correctly, because that might be totally my fault. But no matter what I've tried this past month with MailterLite (love it as I do), I couldn't create a super amazing template to send to my list.
In fact, I didn't even know that it was possible to create a super amazing template without it getting custom coded. Until I landed on a blog that introduced me to Flodesk.
And this is the first time that I've invested in an email tool.
In fact, I migrated my list over today, created new signup forms, and an automation sequence.
And here's this week's new post on why I think Flodesk is such a super find for any small business owner who wants to create beautiful emails that people actually want to open.
UPDATE AUG 2020: Since writing this post, I've been going back and forth between Mailerlite (which integrates with my WordPress and WooCommerce, and FloDesk, which is still in best. I SO want to stay with Flodesk, but if you're using anything but Shopify for e-commerce, you'll have to create a Zap between your website and Flodesk. But keep reading to see why I still love Flodesk and can't leave it behind.
In Search of Inbox Beauty
Let's think about it: How many emails come into your inbox that you actually want to look at?
Like most people, I spend a good deal of time in my inbox. And although I get hundreds (?) of emails, I only auto-enable images from brands whose photos really stand out. Off the top of my head, I would say that currently includes Anthropologie, Spoonflower, Etsy, Society6, The Design Files, anything from Creative Market, and a few individual designers that I follow.
Their emails provide me with a fresh source of trends and inspiration. I like opening them. Their emails are something I look forward to and remember.
And as I designer, I naturally wanted to create a similar effect with my own emails, although I don't have the time or budget (or dedicated team!) that these larger brands have.
Are Beautiful Emails Really That Important?
I was trying to justify the buy to myself, and wondering if other people also felt like that needed beautiful emails. I mean,half of the marketing world is telling you that plain text emails get through to your inbox more frequently than fancy ones, which some service providers automatically mark as Updates or even Spam.
And the other half is publishing stats about how email marketing is changing to be more image-based with less text. That's what Flodesk's founders are saying, and they're providing tools to make it easier.
They've found a sweet spot because people who take marketing seriously are spending (wasting) a lot of time trying to make beautiful emails.
Why? Because visuals capture your attention.
Think about how many long letters you get in your inbox — Sure, you might read few a few really useful ones, but you might also just skim them or look for the click-through link. That's what I do.
Sending pretty, attention-grabbing emails is one way to stand out and save time. You don't have to pour everything into your email efforts. You could write a snippet and send it out, pointing people back to your blog. Win-Win! More traffic to your website and less time spent duplicating your efforts.
Of course there's a lot more that goes into email strategy, and best practices say to test all your emails to see what really works.
But for a small business or solopreneur that wants to infuse their emails with personality but doesn't have the time or budget to run a complicated email strategy, a simple solution might just do the trick. So let's see whether Flodesk can help us there.
Finding the Perfect Email Marketing Platform
Does such a thing really exist? I don't know, but I've been searching around to find one that's perfect for my business at this stage of growth.
Here's what I've been looking for in an email marketing platform:
Beautifully designed emails

Easy to use editor

Integrates into my website

Automation features

List segmentation

Ability to store opt-ins so I don't have to go to use Google Drive + Link Shortener combination every time

Affordable pricing
And here's where Flodesk checks all the boxes:
✓ Beautifully Designed Emails
I don't have time for fixing boring templates or doing custom builds. I'm busy doing that for my clients. No, I want beautiful templates straight out of the box.
I think that this is the real lure of Flodesk for me. Its templates are on-trend for creative entrepreneurs who want to look good: designers, fashion or food bloggers, photographers, coaches…
Just look at the scrolling section on their homepage to get an idea of what they offer.

To get this kind of look on your own, you'd have to have a custom template developed. Here, you have over a dozen choices, all organized by your #goals to keep you focused on the end result. That's smart marketing.
✓ Easy-To-Use Editor
Second, I need to be able to easily edit whichever template I choose to make it even more on-brand.
Flodesk's interface is SO streamlined: think Squarespace clean, but even easier to use.
And unlike most other service providers that I've tried, you're not limited to a selection of web fonts. Flodesk comes with almost 100 stylish fonts including sans, serif, and modern script fonts. No, you can't upload your own (at least not now), but they probably have something that looks close that what you're using if your branding looks current.
I created a quick video for you to see how easy it is to change the look of your template.
✓ Integrates Into My Website… Also Beautifully
Another bonus is that it's super easy to create forms and embed them into my site. I'm not sure which website platforms it integrates with beyond Shopify now, but they're making a link for Zapier, and you can always use an embed block on Squarespace or WordPress.
Best of all, these forms look great. You can also create gorgeous pop-ups and landing pages in Flodesk.
✓ Automation Features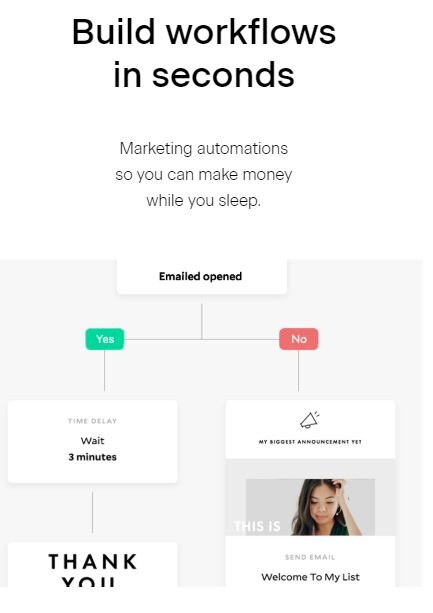 What made me leave Mailchimp was what they took away the automation features from the free plan. I had only been on Mailchimp for a few months and I had to hire someone to set up my forms and automation functionality. They trained me and I got the hang of it. But it wasn't intuitive.
I liked Mailerlite better because it laid out the automation sequence visually. Flodesk does the same, but prettier. You can also schedule a send time.
✓ List Segmentation
It's easy to segment your list into different groups. This comes in handy for sending targeted emails based on your subscribers' interests and for creating different automation sequences.
For example, say someone signs up to a particular opt-in. You could create a Welcome Sequence that delivers just to that particular group. And if you have something to send to all of your lists, you can just send it to all subscribers.
OR, you can send to a particular group but add individuals to that message, too. I think that's a great feature!
✓ Storing & Sending Your Opt-Ins
One thing that MailerLite did NOT do was let me store and send PDFs. I know, sounds crazy, especially if you're coming from a platform like ConvertKit that's all about delivering lead magnets and getting people on your list.
While MailChimp had file storage, MailerLite did not. (Guess that's why they call it light?). I had to host my PDFs on GDrive or Dropbox and attach them as a short link via my link shortener to track clicks.
Luckily, Flodesk does let you attach PDFs directly, so that's a huge time saver.
✓ Affordable Pricing
So, affordable is a subjective word, and as I've said, this is the first time that I'm actually paying for an email platform.
Flodesk is still in early release, so if you sign up through my link, you get Flodesk, forever, for $19 per month. That's for a full-featured plan and unlimited subscribers as long as you keep your subscription active.
So you don't get penalized for growing your list, and you'll get access to all the other features they come out with. Because as I said, it's a newer platform so there are surely more standout developments ahead!
Where Flodesk Needs to Grow
I don't want this to be just another sales pitch review because soon you'll be jumping from platform to platform, too.
I want to tell you that Flodesk is in its early stage. That means that they've pretty much just launched a really well-thought-out MVP (minimum viable product) that shows some distinctions from other email marketing platforms.
It's easy to use, beautiful, and simple. But it will take some time for its team to catch up on things like landing pages, A/B testing, creating surveys, and other features that longer-running companies can offer.
Also missing is the ability to be GDPR-compliant with opt-in forms. For now, you might want to include a little line like "You have read and understood our privacy policy" and then spell out on that page how they can opt-out of data collection.
But, for what it does, Flodesk does it beautifully.
Flodesk is Made for Creative Entrepreneurs
And that's the main reason that I think Flodesk will succeed. They serve such a specific niche and they're intent on doing it well.
Flodesk's CEO and co-founder Martha Bitar, who also works as Director of Business Development at HoneyBook, explained that Flodesk is designed to help one-person companies and tiny teams benefit from email marketing when they can't otherwise compete with all the big, beautiful branded emails.
We know that the market for creative entrepreneurs is getting pretty saturated, and it's not just enough to have great blog posts and a pretty website. You need to stand out and be memorable in any way possible.
And since email marketing is up to email marketing is more effective than social media — which we can all say is saturated, too — now's a good time to get ahead of the curve and make your own emails more memorable.
Wrapping It Up
There are two schools of thought on email design:
Make it beautiful and branded

Send out a story Plain Jane style (hello, ConvertKit)
I haven't dug into the stats and although some say that the Plain Jane way gets better open rates, I'm a visual designer. I need pretty emails and I don't have time to custom code things at this point.
I loved all the functionality that MailerLite packs into its plans, but for me, the templates of Flodesk are calling, and I hope that someday soon this new platform will release more amazing features.
If you want to try out Flodesk for yourself, you can get a free 30-day trial and then 50% off your subscription with this link.
So what about you? What will do mail with?